Campaign news
Police forces in Scotland launch innovative campaign
18 January 2010
Lothian and Borders and Strathclyde police forces have both launched a new campaign designed around one of the images from This Is Not An Invitation To Rape Me.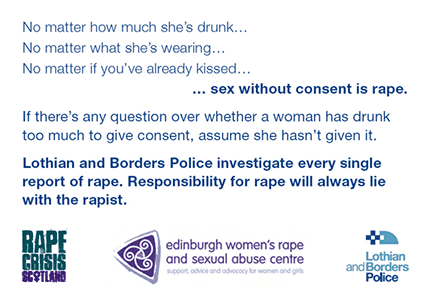 Initially developed by Lothian & Borders Police in partnership with Edinburgh Women's Rape and Sexual Abuse Centre (EWRASAC) and Rape Crisis Scotland, the campaign has now also been rolled out throughout the Strathclyde Police force area.
The new campaign is involving police officers, police staff and Special Constables distributing specially designed postcards depicting women enjoying themselves in a social setting with the direct message that 'drinking is not a crime. rape is.'
Detective Superintendent Lesley Boal from Lothian & Borders Police said: "A very high proportion of all reported rapes are committed by men who are 'known' to the woman in some way, either as a relative, family friend, neighbour or someone they have met socially previously or shortly prior to the assault.
"While the previous 'This is not an invitation to rape me' campaign was designed to encourage discussion and challenged a number of unacceptable attitudes, one being that women are wholly or partly responsible for being raped if they have been drinking, our campaign is designed to give a clear, unambiguous message that drinking is not a crime - rape is.
"Let us be clear - sex without consent is rape, responsibility for rape will always lie with the rapist and Lothian and Borders Police will robustly investigate every report of rape.
"For those who either ply any individual with alcohol for the purposes of sexually exploiting them or sexually exploit them when they are already incapable of giving consent our message is also very clear – you may very well find yourself being investigated for serious sexual crime, prosecuted, convicted, imprisoned and placed on the sex offender register. While drinking is not a crime – it is not a defence either."
Sandy Brindley, National Co-ordinator for Rape Crisis Scotland, said:
"Rape Crisis Scotland fully supports this new campaign. Many women blame themselves for rape if they have been drinking. Too often public safety messages focus on what women can do to keep themselves safe. While there is a role for this, it is refreshing to see such a clear message from the police, which is aimed at the men who commit this crime. The message is clear - if you are not sure if someone is capable of consenting to sex, assume they are not"
Rape Crisis Scotland hopes that other forces in Scotland will follow Lothian and Borders and Strathclyde Police forces in taking on this strong and unambiguous campaign.
Campaign reaches the Scottish Parliament
24 October 2008
Motion: S3M-2725 Cathy Peattie: This is Not an Invitation to Rape Me
That the Parliament welcomes Rape Crisis Scotland's new campaign, This is Not an Invitation to Rape Me, which aims to tackle women-blaming attitudes towards rape in a nationwide advertising campaign; notes that many Scots still believe that women are in some way responsible for being raped if they are dressed in revealing clothing, are drunk, are flirting, or are known to have had many sexual partners; further notes that although rape within marriage was made a crime in Scotland from 1989, the myth persists that women are only raped by strangers and not their partners; believes that social attitudes continue to play a significant role in limiting justice for women who have experienced rape, with a Scottish conviction rate of only 2.9%, and in central Scotland as low as one conviction from seven prosecutions and 45 allegations, with an estimated 40% of rapes unreported, and congratulates the campaign for its use of distinctive images featuring women in everyday settings, challenging people's attitudes towards rape and tackling the myths and prejudices that undermine women's right to say no.
More information about Parliamentary motions can be found on the Scottish Parliament website.
Campaign reports in the media
23 October 2008
STV: Campaign tackles rape attitudes (external link)
Glasgow Evening Times: Adverts challenge views about rape (external link)
The Scotsman: Shock tactics to break prejudice on rape (external link)
The Scotsman Shock tactics are right (external link)
The Scotsman: Campaign that aims to shock (external link)
The Scotsman: No ifs, no buts, having sex without consent is rape (external link)
The Herald: Campaign aims to challenge prejudice on rape (external link)
The Scotsman: Welcome for controversial anti-rape message (external link)
STUC: STUC welcomes Rape Crisis Scotland campaign (external link)
Knaresborough Post: Bid to stop blame theory on rape (external link)